U.K.-based cryptocurrency trading firm GPay Ltd has been wound up by the High Court 'in the public interest,' according to a recent press release by the Insolvency Service. Formerly known as XtraderFX as well as Cryptopoint — the company was put to bed on June 23, 2020, in the UK High Court before Deputy Judge Baister. The Official Receiver has been appointed as liquidator of the company.
David Hill, a Chief Investigator for the Insolvency Service, said:
"GPay persuaded customers to part with substantial sums of money to invest in cryptocurrency trading. This was nothing but a scam as GPay tricked their clients to use their online platform under false pretences and no customer has benefited as their investments have been lost."
"We welcome the court's decision to wind-up GPay as it will protect anyone else becoming a victim. This scam should also serve as a warning to anyone who conducts trading online that they should carry out appropriate checks before they invest any money that the company is registered and regulated by the appropriate authorities."
In considering the petition, the court heard that GPay facilitated an online cryptocurrency trading platform supported by experienced traders and innovative tools that enabled people with no experience to conduct trades.
According to reports online, Gpay was allegedly the brainchild of a group of criminals largely based in Israel including Gal Barak (Wolf of Sofia), Karsten Uwe Lenhoff (German financial scammer), Marina Andreeva, Amit Hulin, Kfir Levy, Jesse Tally, and Itzik Gellet who conceived, designed, built, operated and ripped off hundreds of investors operating a variety of huge broker scams including GPay Ltd, XTraderFX, SafeMarkets, Golden Markets, CryptoPoint, OptionStars et al. Following initial reports, these websites above have accumulated at least 66 million Euro from investors mainly across Europe, of which about 11 million Euro from retail traders in Germany and Austria.
"The authorities of several EU countries have been investigating operators of illegal and fraudulent binary options and broker scams since 2017. Among the main suspects were the German Uwe Lenhoff, 55, and the Israeli Gal Barak, 33, as well as more than two dozen direct suspects from several countries and several dozen employees of illegal boiler rooms.
Israeli Gal Barak was also arrested in Bulgaria in early 2019. He wanted to flee to Serbia, but could be picked up at the border. After a short prison stay in Sofia, Gal Barak was released under house arrest. At the beginning of December 2019, the competent court in Sofia approved his extradition to Austria. Gal Barak is to be charged there."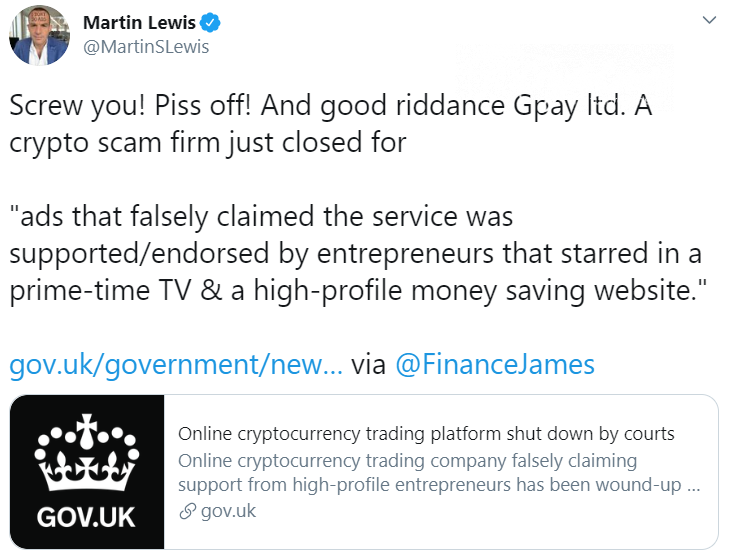 According to Cyberprofilers Online, GPay used to be one of the main illegal payment processors of the Israeli-Bulgarian cybercrime organization around the Israeli Gal Barak and his E&G Bulgaria. GPay Ltd, registered in August 2017 at UK Companies House under Company No 10938332, was one of the main companies for the processing of credit card payments of the customer victims of the various scam brands of E&G Bulgaria.
"The Bulgarian Georgi Komisarov is registered as director and controlling person of GPay. He is a frontman and nominee shareholder of Gal Barak and is recorded as a director in some other entities of the cybercrime organization. GPay was for example registered as a merchant with the Dutch Payvision of Rudolph Booker. GPay's accounts with the Bulgarian Investbank were used to distribute the incoming payments of the client-victims. A small part was used to finance the boiler rooms of E&G Bulgaria, furthermore, the marketing partners were paid for the acquisition of new victims."
"However, the largest part disappeared in the offshore companies of Gal Barak and his wife Marina Barak, who was Chief Financial Officer of the scheme. An insider estimates that in 2017 and 2018 more than €60 million in customer funds were cleared through GPay alone. In total, E&G Bulgaria is said to have stolen more than €200 million between 2017 and 2018. In the tables below, we have listed the most important entities discovered so far around GPay. We are aware that these are not all entities yet. The list is continuously updated by EFRI and FinTelegram."
"GPay has processed bank and credit card deposits and cryptocurrencies through various partners. By far the most important partner was Payvision, which transferred millions to GPay until Gal Barak was arrested in early 2019. At that time, numerous warnings from financial market regulators were already known that warned of GPay as a scam. In Germany, Paul Lopatin, who operated some of the illegal German payment processors, was recently convicted (read FinTelegram article here)."
The company, which traded as XtraderFX and formerly as Cryptopoint, targeted people in the UK and abroad, advertising its services online and via social media channels.
Customers were encouraged to use GPay's online trading platform through advertisements that falsely claimed the service was supported or endorsed by entrepreneurs that starred in a prime-time TV show and a high-profile money saving website.
Following complaints, however, the Insolvency Service conducted confidential enquiries into GPay's activities before investigators uncovered that at least 108 clients claimed they had lost in total just under £1.5 million while using the company's online trading platform.
In some cases, clients lost money despite paying insurance which was meant to retrospectively cover their losses.
If clients attempted to remove funds from their trading accounts, they were advised that no withdrawals could be made until they submitted copies of their photo ID, a utility bill and debit or credit card. This level of information, however, was not asked by GPay when they accepted clients' deposits.
Clients also reported that withdrawals would be declined if they hadn't actively traded the deposited funds.
GPay did not defend the public interest petition and the in winding-up the company, the court concluded that the company demonstrated a lack of commercial probity, failed to file statutory accounts and had no legitimate presence at its registered office address, which GPay appeared to have abandoned.